December 13th, 2011, marks the 375th Birthday of the US National Guard. The motto "Always Ready, Always There" couldn't be more fitting when you know the history of our National Guard.
An organization that is older than the country itself, the National Guard had its roots as the militia of the Massachusetts Bay Colony. Male colonists between the ages of 16-60 were required to defend the colony against attacks from the indigenous Pequot Indians. The colonists were required to train, have weapons, and participate as guards during the night or defenders during attacks.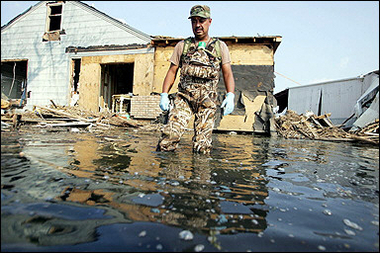 National Guardsman Paul Miera helping the relief effort in the
wake of Hurricane Katrina.
Today, the National Guard is still the people's militia. Their duties include serving domestically, abroad, and in relief operations. Over 250,000 National Guard personnel had served in Operation Iraqi Freedom (OIF) and Operation Enduring Freedom (OEF) from 2001 to 2007. Within the first 2 weeks after Hurricane Katrina, over 42,000 Guard troops were deployed in relief operations.
To our men and women who are "Always Ready, Always There," we are 'Always Grateful' for your service. Happy Birthday National Guard!